DRIVER BACKREST KIT FOR OEM DRESSER/TOURING SEATS
DRIVER BACKREST KIT FOR OEM DRESSER/TOURING SEATS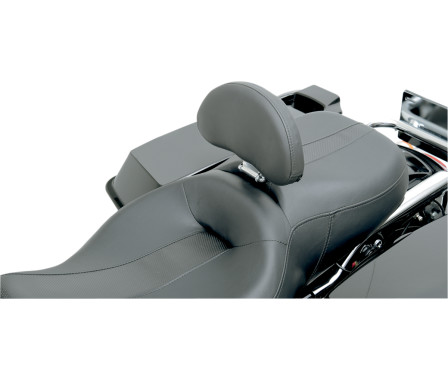 Specially designed to work with 88-16 Dresser/ Touring models with OEM slotted seat
EZ Glide receiver mechanism allows you to easily mount your choice of pad assembly (receiver mechanism and pads sold separately)
Pad assembly includes high-quality polished and chrome-plated 7.25" (short) or 9.75" (tall) detent bar with a design that provides 2" of fore and aft adjustment
All pads fold forward for ease of getting on and off bike
Pad assembly options include a vinyl pillow-style to match tall pillow-style seats, and solar-reflective leather styles that match both lower profile and tall seats; solar-reflective reduces surface temperature by as much as 25°F for a cooler contact, higher durability and longer life over conventional leather or vinyl
All large pad assemblies also include a pouch with a removable rain cover that will cover the pad and the entire seat for added protection from rain and sun
Made in the U.S.A.
NOTE: Short bar is for Street Glide, Road King and Road Glide-style low-profile seats. Tall bar is for Ultra-style tall-profile seats.