LOW-PROFILE TOURING SEATS WITH EZ GLIDE I™ BACKREST

...
LOW-PROFILE TOURING SEATS WITH EZ GLIDE I™ BACKREST SYSTEM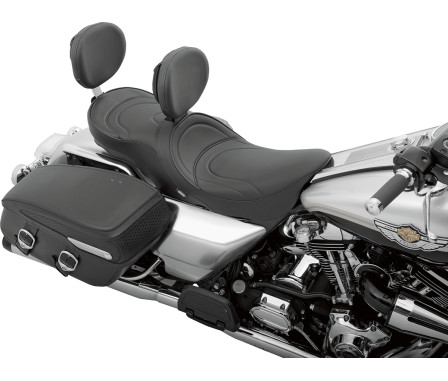 Solar-reflective leather in the seating area and automotive-grade vinyl on the sides; patented process reduces surface temperature by as much as 25°F for a cooler seat, higher durability and longer life over conventional leather or vinyl
Molded flexible urethane foam interior for maximum comfort and styling
3/16" ABS thermoformed base for a perfect fit
Carpeted bottom with rubber bumpers to protect paint
Lower rider 1" compared to stock seat on 08-13 models
Features driver and passenger backrest capabilities; includes one EZ Glide I™ backrest with solar-reflective leather that can be used in either position (additional backrests sold separately)
Seats' internal EZ Glide systems feature no metal-to-metal contact with the backrest detent bars; bars are securely suspended in place using synthetic composites that virtually eliminate corrosion and wear
Seats' detent tab is a rust-free advanced polymer and is what allows for the smooth operation of the EZ Glide systems; passenger backrest position on seats features a locking screw for additional security over detent tab
Backrests feature a detent bar with multiple detents on lower portion for adjustability up and down within the seat and chrome plated hardware that allows up to 2" of forward-rearward adjustment
EZ Glide I backrests include a backrest pouch on rear; "The Convertible" EZ Glide I backrest includes a rain cover that pulls out of the pouch on the backside of the pad and covers the entire seat
Include mounting hardware
Made in the U.S.A.
NOTE: 97-07 FLHR/FLHX seats will fit 97-07 FLT/FLHT/FLTR models when used with lower dash extension PART #2202-0070.